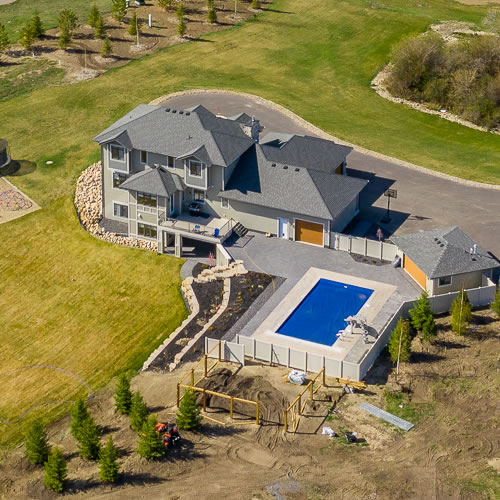 Section 1.
All building is to comply with the current RM of Corman Park CRl District Zoning Bylaws as may be amended from time to time.
All homes are to be built minimum Energy Star Home Ratings.
Section 2.
a. Building size:
1600 sq. ft. Bungalow or 2100 sq. ft. Two Storey
Any out buildings or additional garage must match facade of the house and be approved by Grasswood Estates Building Committee (G.W.E.B.C.)
b. Foundations:
Concrete or insulated block. No Wood
Any approved foundations
c. Height of Structure:
Minimum 6-12 foot roof pitch or as approved by G.W.E.B.C. including flat roof
Must be approved by G.W.E.B.C. and meet all NBCC regulations
d. Approved Exterior Materials and Colours
Acrylic stucco
Brick or stone with a minimum of 30% frontage with 4 ft. returns
Or such exterior materials as approved by G.W.E.B.C.
e. Roofs:
Asphalt shingles (Minimum 30 years)
Clay and Metal will be considered but must be approved by the G.W.E.B.C.
Or such other material as approved by G.W.E.B.C.
f. Porches/ Terraces/ Decks:
Covered decks and front porches are allowed
Material must be treated wood or wood composite
Terraces and porches can be paving stones
g. Chimneys/Outdoor fire pits:
Must meet NBCC requirements and be approved by G.W.E.B.C.
h. Garages and Garage Doors:
Minimum double attached garage
j. Changes to Originally Submitted plans or Additional Construction:
Must be submitted to G.W.E.B.C. for revision
All engineering costs will be owned by contractor and be submitted with the plans for revision
k. Septic Tanks and Cisterns:
Location, size and type of tanks/cisterns must be submitted to G.W.E.B.C. with the plans
As approved by G.W.E.B.C. and Saskatoon Health Region
The minimum allowable septic system is what is referred to as a "3 cell system"
Purchaser to get approval for septic system from developer; such system shall be the Advanced Enviro-Septic System or equivalent. Equivalent systems must be NSF 40 Certified as a Package Treatment Plant, and must discharge to an appropriate soil infiltration system such as a Treatment Field or Type II Mound, as deemed acceptable per the site evaluation and soils testing.
All OWTS must be maintained annually to ensure proper system function.
l. Building Setbacks:
Must be a minimum of 8 meters from frontage
All setback plans must be submitted with plans for approval by G.W.E.B.C.
m. Timelines for completion:
The start time is 2 years from the time of purchase and then a further 2 years to complete.
All homeowners are required to become a member in good standing of the G.W.E. Home Owners Association.
*Please note: All lots are for new home construction only. R.T.M.s and Mobile homes will not be accepted.